Tri-Fold Presentation Displays
Economy Trifolds
Self standing foamcore displays for tabletop presentations

Perfect for smaller conferences and science fairs

40" x 30" only $84

48" x 36" only $104

Free ground shipping is not available on tri-folds
Our new economy trifold display is direct printed on 3/16 foamcore board. It is scored on the back so the sides fold in for easy shipping. If you are making a display that only needs to last a few days, give it a try! Economy tri-folds take an extra day to produce.

Download a 48x36" tri-fold template

Download a 40x30" tri-fold template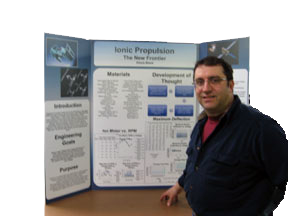 Standard Trifolds
Matte or gloss laminated foamcore

48" wide x 36" high

Ships as 24x36" for easy handling
Use our tri-fold 36x48" template, and enter your information.

Download a 48x36" tri-fold template
Standard tri-folds are laminated with either matte or gloss plastic for extra durability. We then score it so it folds in on either side to become 24x36" for easy shipping. Your poster presentation will arrive safely packaged between two sheets of cardboard.
Stand up your tri-fold display, and swing out the arms. Voila! You'll have a very attractive, self standing conference presentation.
Pricing: gloss laminated $167 plus shipping, matte laminated $177 plus shipping. When ordering, select a tri-fold in the drop down menu. Standard Tri-folds are only available in 36x48" size. Free ground shipping is not available on Tri-Fold posters.
If you need something larger and self standing, give us a call on 800-590-7850 and we'll work things out.
Self-Mounted Poster Presentation Alternative: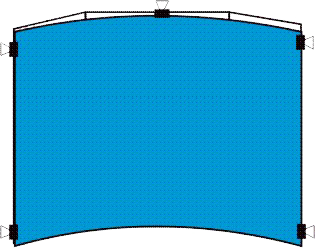 Most office supply stores offer a 36x48" cardboard display, to which you can attach a 36x48" laminated poster with binder clips as shown. Use our 36x48" horizontal template. The display has two 12" wings on the side that allow it to fold to 24x36". We'll send your poster presentation in a Fedex Tube, and both are then easily transported. Tri-fold displays at Staples are item #302919, they are $8. Office Depot/Max calls them Project Display Boards, a cardboard one is item #434415 for $8, and a white foamcore version, Item #334961 is $13.