Payment Options
For first time orders, we like to accept Visa, Mastercard or American Express.
If you wish to set up an account for future orders, we'd be glad to do that, just give us a call. Since things often change between the time you place your order and when it is finished, we don't process your charge until we are ready to ship. For PayPal, we will send you an email authorization.
We may also be able to accept your purchase order, call us to set up an account. 603-536-2900.

---
Don't Forget Your Poster Carrier!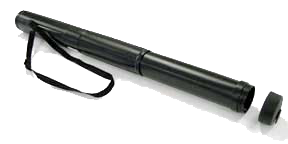 A convenient way to carry and protect your poster.
Tubes are 3" diameter plastic and "telescope" to hold 36 or 48" posters.
Your poster goes back into the tube easily! Includes a carrying strap.
ONLY $26