Foldable Fabric Scientific Research Poster Printing
Fabric Posters Make Travel Easy!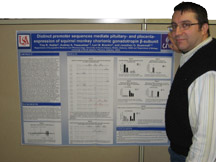 • Goes in your carry on!
• No big tube to haul around
• Same brilliant color as paper
• Save on baggage fees

Here's an answer for those who want to avoid carrying a poster tube on an airplane. Especially now that we are all trying to avoid the expense of checking luggage, you can put your foldable fabric poster in your carry-on!
The wrinkle-resistant fabric does not crease, so it comes out of your bag with only the slightest hint that it has been folded. It will give you an excellent presentation with the same accurate colors and vivid pictures that our paper posters give you.
Click here for Fabric Sizes and Prices.
---
Here are a few recent, unsolicited comments from researchers who used our fabric poster: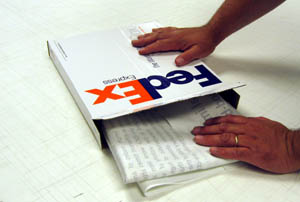 I was a little nervous to order a fabric version of my research presentation online, sight-unseen, but decided to take the chance. It not only arrived exactly when you said it would, but it looked fantastic! I was surprised to see that the detail was the same as a paper poster, and I'm happy to not have to carry a tube on the plane. Thanks for the great job and service--this is where I'll be printing my posters from now on.
Jenny Esswein, PhD
Department of Physics
Ohio State University
---
I just wanted to pay my compliments to you on the new fabric posters. My colleague and I just used them for a conference presentation and they were a big hit. We had so many compliments on them and many people asked us for your information. The colors and the material were great. I can't tell you what a relief it was to be able to fold them and put them in my carry on and not have to worry about being forced to check a bag or having the tube crushed in the over head compartment.
Ms. Niko Verdecias, MPH
Project Director
Department of Family and Social Medicine
Montefiore Medical Center, New York
---
The poster fabric and coloring look amazing, the print is perfectly clear, and it is incredibly convenient for travel. I definitely can reuse it as well-- the fabric seems more durable.
Teresa Mulaikal
Columbia University
New York, NY
---
Just got my fabric poster and love it! This is about 1000 X better than the afternoons wasted wrestling with our huge plotter printer, paper cuts, wet ink, big tubes, etc! We'll definitely order again!
Kimberly Baxter Decker
Doctoral Candidate
National Institutes of Health
Bethesda, MD
---

I have to put in a plug, too, for the foldable fabric. No matter how careful I am in my packing, I always have two carry-on bags, even after I've stuffed my purse into my computer bag. Not having to carry a poster tube as well is a miracle and well worth the extra money. Megaprint will be getting all of my business in the future - and I've already recommended you to colleagues!
Darcy Mitchell PhD
Colby Sawyer College
New London, NH
---
I received the poster. Excellent fabrics. This is a revolution in poster making. NO need to carry that big tube anymore. Thank you for this great invention.
Sarwar Hashmi
NY Blood Center
New York City
---
The fabric poster looked great, traveled well, and I plan to make a superhero cape out of it as soon as I can get away with it
Cyd Skinner
Northampton Community College
Bethlehem, PA
---
Wanted to let you know that I was very pleased with my recent poster purchase. The fabric material worked out even better than I had hoped. Cheers.
Larry Kane, PhD.
Assistant Professor
Dept. of Immunology
University of Pittsburgh
---