Academic Research Conference Poster Pricing Guide
Scientific Poster Size
Matte Paper
Glossy Paper
Gloss Laminated
Matte Laminated
Foldable Fabric
36"x48"
$81
$95
$105
$117
$129
36"x56"
96
111
118
124
153
36"x60"
102
117
126
132
162
36"x72"
119
137
148
153
188
36"x96"
153
177
192
198
240
42"x60"
119
138
197
197
195
42"x72"
144
166
236
236
233
42"x90"
180
207
295
295
289
48"x48"
119
138
179
179
173
48"x72"
179
206
269
269
260
48"x96"
239
275
358
358
346
Metric Sizes
70x100 cm
55
66
74
82
97
80x90
58
68
75
84
98
85x120 (A0)
77
90
100
112
124
90x180
119
137
148
154
188
100x140
107
123
174
174
173
VELCRO® dots
$.50 each
hooks only
Trifolds
36x48 Economy
99
36x48" Glossy Laminated
167
36x48 Matte Laminated
167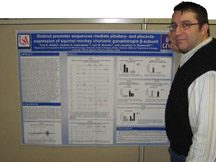 Pricing includes free ground shipping except for tri-folds. Our online order form will show you shipping options and pricing. We offer free 2 Day shipping for orders of two or more scientific research posters.
No matter what size you choose, there is always a 10% discount on orders of 5 or more research posters ordered together. We can print special sizes up to 60 inch width and 30 foot length.
If you want us to do the poster layout, we can do that too.
Call for special sizes and pricing, 800-590-7850.
---
Don't Forget Your Poster Carrier!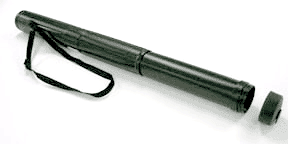 Standard Carrying Tube $27
A convenient way to carry and protect your scientific poster. Tubes are 3" diameter plastic and "telescope" to hold 36 or 48" poster sizes. Your poster goes back into the tube easily! Includes a carrying strap.

Premium Carrying Case $38
This is a more durable leatherette bag that holds your scientific poster in a cardboard tube. It comes in 36" and 48" sizes. You can fold the bag to go into your luggage for the journey home. We put your poster in a tube, and the tube goes into the bag. It has both an adjustable carrying strap and a handle, and closes with VELCRO® hook and loop.
Color Handouts
8-1/2x11- $1.65 each
8-1/2x14- $2.05 each
11x17- $2.40 each

Minimum of 20