Tri-Fold Poster Presentations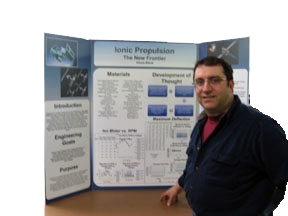 Self standing foamcore poster

Matte or gloss laminated

48" wide 36" high

Ships as 24x36" for easy handling
When you need a self standing poster, here's an easy way to make a great looking presentation. Use our tri-fold 36x48" template, and enter your information.

download a 36 x 48 tri-fold template
We'll print your poster, laminate with plastic, and mount it to foamcore board. We then score it so it folds in on either side to become 24x36" for easy shipping. Your poster presentation will arrive safely packaged between two sheets of cardboard.
Stand up your tri-fold display, and swing out the arms. Voila! You'll have a very attractive, self standing poster presentation.
Pricing: gloss laminated $162 plus shipping, matte laminated $172 plus shipping. When ordering, select a tri-fold in the drop down menu. Tri-folds are only available in 36x48" size.
If you need something larger and self standing, give us a call on 800-590-7850 and we'll work things out.
Self-Mounted Poster Presentation Alternative: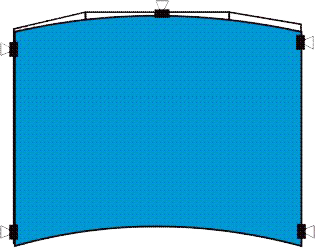 Most office supply stores offer a 36x48" cardboard display, to which you can attach a 36x48" laminated poster with binder clips, as shown above. Use our 36x48" horizontal template. The display has two 12" wings on the side that allow it to fold into a 24x36" box. We'll send your poster presentation in a Fedex Tube, and both are then easily transported. Tri-fold displays at Staples are item #922528, they are $8. Office Max calls them project display boards, a white foamcore version, Item #11065143 is $12.